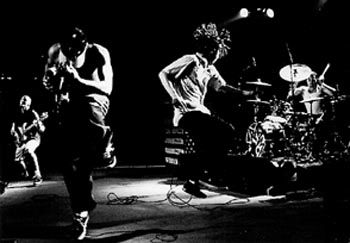 Know your EnemY
(Rage Against the Machine Ft. Maynard James Keenan)

Born with insight and a raised fist
A witness to the slit wrist, that's with
As we move into '92, Still in a room without a view

Ya got to know/Ya got to know That when I say go, go, go
Amp up and amplify, Defy, I'm a brother with a furious mind
Action must be taken /We don't need the key/We'll break in
Something must be done, About vengeance, a badge and a gun'
Cause I'll rip the mike, rip the stage, rip the system
I was born to rage against 'em /
Fist in ya face, in the place And I'll drop the style clearly
Know your enemy...

Word is born:Fight the war, fuck the norm+
Now I got no patience/So sick of complacence
With the D the E the F the I the A the N the C the E Mind of a revolutionary
So clear the lane The finger to the land of the chains

What? The land of the free?Whoever told you that is your enemy!
Now something must be done/About vengeance, a badge and a gun'
Cause I'll rip the mike, rip the stage, rip the system
I was born to rage against 'em
Now action must be taken/ We don't need the key We'll break in

I've got no patience now, So sick of complacence now
I've got no patience now, So sick of complacence now
Sick of sick of sick of sick of you
Time has come to pay...
Know your enemy!

Yes I know my enemies They're the teachers who taught me to fight me, compromise, conformity, assimilation, submission, Ignorance, hypocrisy, brutality, the elite
All of which are American dreams

---------------------------------------------------------



know your soundtrack: Rage Against the Machine no es necesariamente mi banda favorita, tampoco la que tengo todos los días en los oidos, es más, ahi veces Zach de la Rocha me parecía algo sobreactuado en su papel de rebelde... pero si se de su musica, si se de su mensaje y se que a diferencia de U2, coldplay o tantas bandas light que se han comprometido también en la resistencia global como artistas, Rage a través de su música y de sus letras lo decía todo sin tapujos. Mientras Bono espera en cualquiera de sus conciertos a que suene Sunday Bloody Sunday para ponerle el toque político al concierto, Rage Against the machine es en si política (entendida como expresión y/o acción social de un grupo de individuos), desde el primer riff hasta el último del battle of mexico city (concierto recomendadísimo), o de su disco de versiones Renegades.
Hoy no pensaba publicar nada, aclaro que esta no es mi banda del año (como advertí antier que publicaría), pero acá sentado leyendo algunos asuntos en el incendiario y Bogotania me encontré con la selección de Rage en el media player. Cuando llegué a esta canción, la repasé en la cabeza y quedé nuevamente político/alterado (esta mañana tuve la típica discusión pro-uribe / contra uribe) hasta el punto en que acá estoy publicándola. Bien es cierto que necesitaba oirla en estos días en que el fatalismo nacional me pesa tanto y en que necesito motivación para el próximo año. Renuncio a las consecuencias de ese fatalismo, renunció a las suposiciones bajo las cuales Uribe ya segurísimo va hasta el 2010, el tlc se firma y a bush no lo tumban. Renuncio a mi pesimismo, "some action must be taken".
_______________________________
Menos mal Juliana (todavía no parte del parche bloggero pero apuesto que algún día) lee mis posts primero que todo el mundo aunque nunca comenta en ellos, y muy inmediatamente por messenger me hizo caer en cuenta de que me sirve precisar ciertos puntos, que como le expliqué a ella, dan fundamento a lo que escribí sobre RATM.
- Cuando me refiero a Coldplay y a U2 como bandas light, no pretendo desprestigiarlas, por el contrario me gustan un resto, tengo los dos primeros de coldplay y U2 me parece que tiene discos descomunales (war, Achtung baby, zooropa y pop) a pesar de otros con buenas canciones pero que me parece que pierden el riesgo de esos mencionados. Al hablar de lo "light" frente a RATM es que claramente u2 y coldplay son bandas mas digeribles comercialmente de lo que RATM jamás pudo haber sido. Coldplay y U2 son bandas productoras de singles y la verdad no creo que nadie pueda discutir eso.
- Bono en el sentido práctico es una figura política, es un ícono de resistencia artística y de la forma como varios músicos utilizan la fuerza de sus bandas para transmitir un mensaje, y eso en extensión hace que la gente relacione a U2 con lo político. Coldplay a través de Martin como compositor de letras también se va reflejando como una banda que apoya la defensa de derechos a través del globo. Pero ninguna de las dos bandas, no nos digamos mentiras, nacieron con el propósito de mandar un mensaje político constante, y lo digo con conocimiento de causa: de sus discos dos, máximo tres canciones tienen un mensaje político. (El que quiera hacemos el conteo). De RAge inclusive cansa que no sepan cantar otra vaina, todo es un mensaje coyunturalmente acertado con política.
- Por la revista donde trabajo conozco de una entrevista que fue realizada a la esposa de Bono, quien es realmente quien lleva la batuta de la labor política de Bono, y este por supuesto, es si figura mas representativa.
- Solo para sacarte de dudas de nuevo Juli, me encantan las tres bandas, u2 por trayectoria tiene "los temas" y el pop me parece uno de los mejores discos de los noventas en su género loco, y es probable que mi oido pase mas a u2 y a coldplay, pero no me queda duda, RATM es un mensaje político integro, no hay casi bandas así ahora, ni siquiera system of a down o audioslave, en el sentido explícito... sino que banda le pone a sus cuatro discos "rage against the machine" "evil empire" "the battle of l.a." "renegades" y en la parte de atrás de sus discos no dice integrantes sino "guilty parties!"
- besitos juli, me vas a hacer falta en outlook.
bonus track:

un link de una comparación del pop de u2 con el evil empire de rage (en su sentido político).